About the Skillbuilders® brand
Skillbuilders® molded foam positioning products were introduced to the occupational therapy and special needs universe in the 1980s. Many of you who have received physical therapy after an injury have probably been positioned with a Skillbuilders® roll or wedge to bolster and optimally position your body for treatment. Many special needs children have also benefited from the Skillbuilders® modular adaptive positioning systems in their every day life.
The product line includes molded foam products manufactured with an integral coating. The coating is tough, yet soft, and is washable. Skillbuilders® positioning products are manufactured in the USA and CE marked for sale outside the USA.
The Skillbuilders® product category
Below is a listing of some Skillbuilders® products. Select a category link to learn more.
Skillbuilders® rolls and wedges – integral coated, firm positioning shapes and bolsters to facilitate physical therapy exercises
Skillbuilders® modular seating – integral coated seat with harness is firm, yet soft to the touch. Seat available alone, or with stationary or mobile floor base.
Skillbuilders® swing seat – seats designed with the special needs child in mind. Use for vestibular training and play therapy, or just for fun!
Skillbuilders® products
---
Accessories for Skillbuilders® swing seats include leg extensions, head-rests, seat covers, swing seat frames, bounce adapters and more.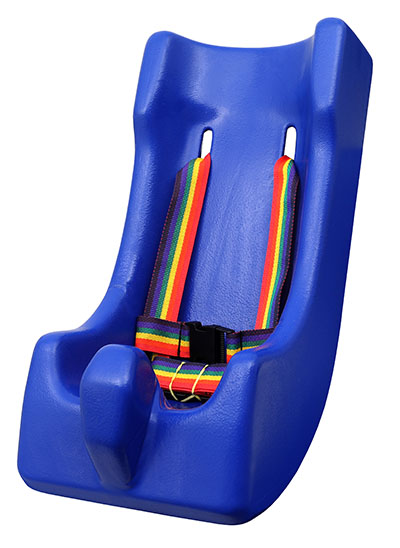 Skillbuilders® modular seating system allows for basic Feeder Seat to transform into floor sitter and mobile floor sitter. Each seat has built-in abductor, contoured interior for correct seating posture and a safety harness. Seats are made of molded foam that is firm yet soft to the touch, with integral waterproof coating that is easily washed for years of use.